Throughout the coronavirus (COVID-19) outbreak, the Ohio State Building & Construction Trades Council stands ready to help. This resource page will provide up-to-date resources and guidance to help Ohio Building Tradespeople, local unions, and Joint Apprenticeship Training Committee Programs during this uncertain time. We strongly encourage you to click on the links and read the information.
Governor DeWine hosts live briefings on the Ohio Channel daily at 2 p.m.: http://ohiochannel.org/live/governor-mike-dewine
HEALTH & SAFETY
UNEMPLOYMENT COMPENSATION
Please continue to contact the Ohio State Building Trades with unemployment compensation questions, processing or otherwise.
Governor DeWine's Executive Order on Unemployment Compensation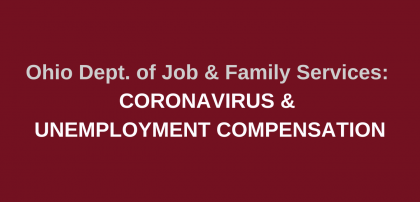 Step-by-Step Instructions for Filing Initial Claim:
> Go to https:///unemployment.ohio.gov
> Click green File/Appeal Benefits box
> Click I Agree
> Enter social security # and 8-digit pin
(If our member has no PIN number, click register now to get a temporary PIN number: Step 1: enter name, social security number, birthdate and select a PIN question and type in answer, hit next; Step 2 write down the temporary password that appears; there will be a prompt to change the temporary PIN before member can access the Main Menu)
> Main Menu: click File New Claim
> Enter personal info
> Enter demographic info
> Answer basic questions on Eligibility Questions Page 1
> Answer basic Questions on Eligibility Questions Page 2
> On this page-questions include:
Do you have a definite recall date?  NO (recommended)
Expect to be recalled within 12 weeks?  YES (recommended)
Are you a member in good standing of a skilled trade union?  YES (recommended enter union local/city)
Are you required to seek work through your union (exclusive hiring hall)?  YES (recommended)
> Add Dependents information:
> There are 3 categories of benefits:
Single (no dependents)
Up to 2 dependents
More than 2 dependents
> Enter Mass layoff code: 200180   
> Answer question about additional employers at bottom
> Registration page: answer questions regarding veteran status; wage info; occupation
> Enter Debit Fee disclosure or Direct deposit information
> Submit claim for processing (process should take 10-15 minutes)
 Information on filing weekly claims
 FAQs
Frequently asked questions from Ohio Building & Construction Trade unions and members.
ODJFS is requesting social security card and birth certificate before claim is approved – do we have to submit this documentation?
     Recommended to expedite claim
> Do we still have to submit a "good guy" letter for a layoff?
A: REVISED 4/2/20: ODJFS is not requiring union verification at all during this crisis. This means there is no need at this time to submit "good guy" letters or "furlough letters" or the union verification form, if you were using that. For anyone who still wants to submit the letters or forms, they can emailed to JFS.UI_Respond@jfs.ohio.gov or faxed to 614.466.7449, but again, we are no longer required to do so.
> It's difficult to get through online – will my claim be retroactive to the date I qualified?
Yes, the claim will be retroactive to the date of qualification. Also, ODJFS is adding additional servers to increase capacity for this volume of claims (187,780 claims in 1 week)
> Can I apply by phone?
Call 1-877-644-6562. I'm told the process could take at least 90 minutes by phone – online is much preferred.
> With all the claims, will the state run out of money?
Once the Ohio Trust Fund is tapped out, additional unemployment compensation funding is made available through the federal government. This is standard operating procedure.
> If my current claim is exhausted, will I qualify?Today, there are no extensions available. HOWEVER, with passage of the stimulus bill, there may be additional 13 weeks of benefits available. ODJFS is already reviewing this.
> How will the $600 per week from the federal government be accessed by unemployment recipients?
It's not entirely clear (as of 3/31/2020), but we anticipate it will be included in the weekly payments made by the state of Ohio.
VOTING INFORMATION FOR OHIO PRIMARY ELECTION