Solidarity is a familiar word to union workers. We have always known that we are stronger if we stand together than if we try to struggle through on our own.
That is why unions have been at the forefront of those who have taken it upon themselves to help others during the coronavirus crisis. All over the world we are hearing news of workers who have donated their skills, time and money to aid others. Here at the Ohio Building Trades, we are proud to share just a few of the many local stories with you.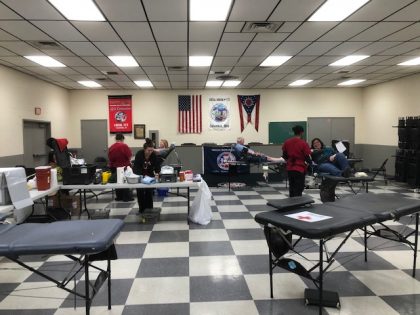 Iron Workers Local 172 in Columbus hosted a Red Cross blood drive on March 28. There were a total of 43 donations from both members and the general public. Another drive is scheduled for May 30, 2020.
IBEW Local 38 in Cleveland collected masks and gloves and donated them to the Cleveland Clinic.
The UA Local 776 JATC in Lima collected 125 face shields and 80 N95 masks and donated them to the local hospitals.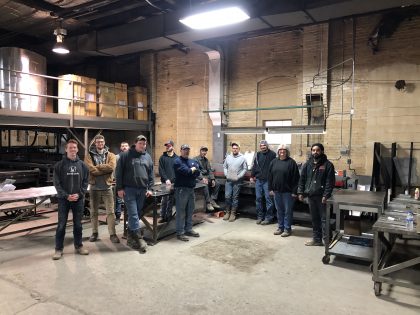 Sheet Metal Workers Local 33 in Cleveland and Local 24 in Dayton have been distributing aluminum nose pieces for face masks that their signatory contractors donated. These pieces are being distributed to volunteers across the country who are hand sewing masks to donate to front line workers and first responders. This is an effort that the International is coordinating through its SMART Army.
UA Local 55, Laborers Local 310 and IBEW Local 38 in the Cleveland area are turning the Health Education Campus at Cleveland Clinic into temporary hospital accommodations should they be needed.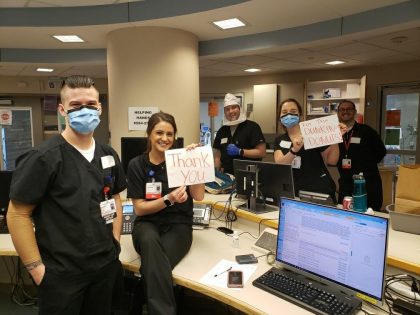 On March 27th, IUPAT District Council 6 delivered coffee and donuts to the nurses of University of Cincinnati Medical Center. These nurses demonstrate extraordinary courage and dedication at the frontlines of this COVID-19 pandemic. Painters District Council 6 is pleased to have their very own Jessica Story take the initiative to raise the funds to have provided this generous act.
There are many more relief efforts taking place all across Ohio and Ohio Building Trades' members are proud to be leading the way. As we transition back to normalcy, we need to take time to stop and re-evaluate our lives and the way we work together. We are stronger in solidarity and we are #InThisTogetherOhio.