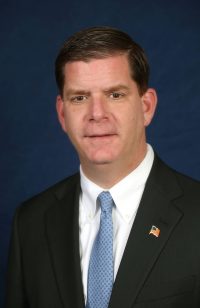 The Ohio State Building and Construction Trades Council is very excited that Marty Walsh has been chosen to be the new US Labor Secretary. Walsh is a member of LiUNA Local 223 in Boston and headed the Boston Building & Construction Trades Council prior to being elected Mayor of Boston in 2013.
Walsh also served in the Massachusetts House of Representatives, representing the Thirteenth Disitrict of Suffolk County where he was the Chairman of the Committee on Ethics, served as co-chair for the Special Commission on Public Construction Reform and co-chair of the Massachusetts Democratic Party Labor Caucus.
President-elect Joe Biden has promised to be the "strongest labor president" in American history and Walsh's appointment is a promising start. We look forward to having a strong union voice in this office.